There are two main types of rugs: handmade rugs, and machine-made rugs. Most of the rugs currently sold are machine-made rugs, which are an excellent choice for most consumers. However, machine-made rugs rarely come close to the quality and durability found in handmade rugs.
Handmade carpets are also distinguished by their high price compared to machine-made carpets, so if you want to know whether your new carpet is handmade or machine-made, in this article we will provide some basic terms related to the handmade carpet industry and how to distinguish it from machine-made carpets.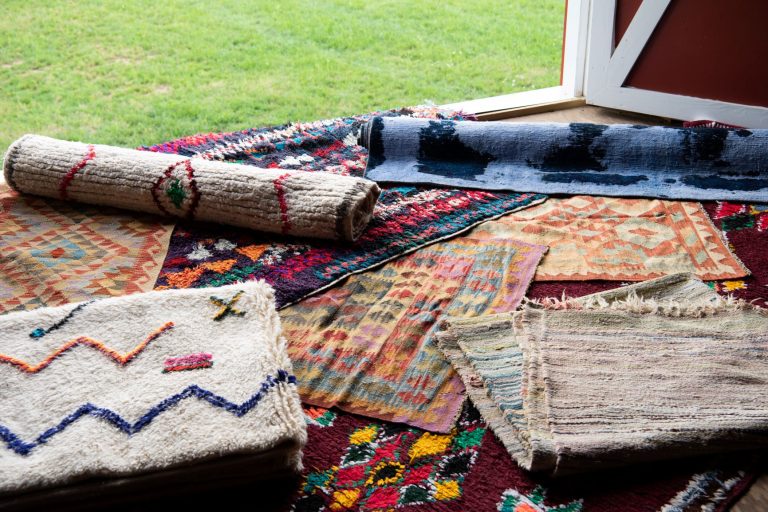 Handmade rug
If you are reading the terminology of handmade carpets, it will seem complicated for the first time, but it will not seem so if you start learning and using them, to make a decision regarding your future handmade carpets:
The stamens, the weft and the pile
All rugs are made of at least three different yarns or fibers, which are named based on how they are used in the rug.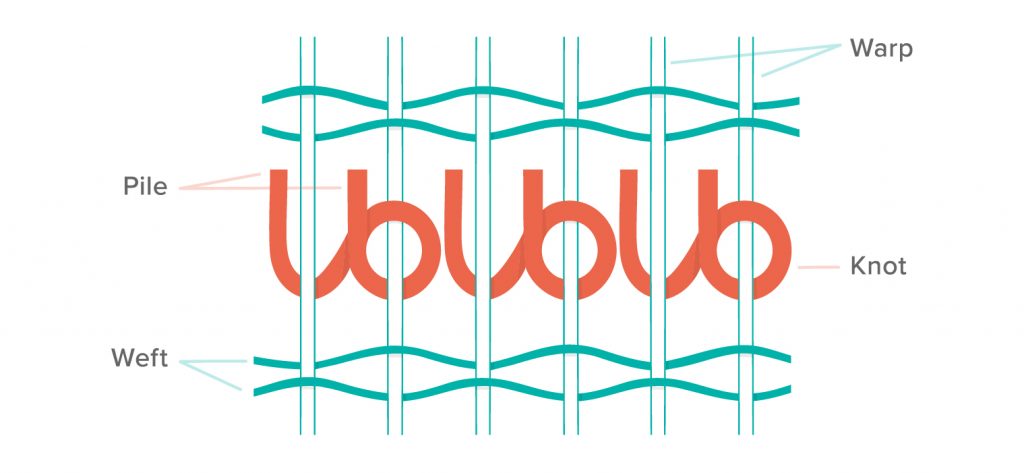 The "warp" of a rug is the staple (usually cotton) threads that run the length of it, and the "weave" is the staple fiber that runs across the width of the rug, usually dyed wool or silk and knotted into the rug's warp to create the design and texture of the rug.
Comparison of hand-knotted carpets with hand-knotted carpets
All true oriental rugs are, in fact, knotted by hand. In this complex and labor-intensive process, the warp is stretched vertically by a wooden loom row by row, so that each weaver individually threads the pile onto the warp, weaves the weave and packs the threads tightly using a heavy comb, from During this process, the weavers lay the foundation of the rug, and the pile becomes an important part of the overall structure of the rug, resulting in a work of art that is extremely durable, soft, and flexible at the same time.
Machine-tufted rugs start with a firm foundation usually made of jute. The weavers then beat the pile of the carpet through this foundation using a gun-like tool that is typically used while imprinting a pattern on the carpet. The pile is then cut and held in place with an adhesive such as latex. This requires The process is much less skilled than hand-knotted rugs, so hand-knotted rugs can be made more quickly.
Handwoven rugs
There is another type of handmade rug that is completely lint free; This style of carpet is called by many names, including: Sumak and Dori, but the most common among them is the Turkish word "kilim", and unlike other types of carpets, "kilim" carpets do not contain knots or tufts, and instead of that, colored weaving threads are woven Through the stamens to form a carpet pattern, a light, durable and often reversible ground cover is obtained. Traditionally, the kilim is a tribal rug, and as such is characterized by more "sharp" geometric patterns than the intricate floral, medallion patterns common to "city" rugs, including most pile rugs.
Persian carpets and oriental carpets
Persian carpets are hand-knotted carpets made in Iran. The origin of the techniques used in weaving Persian carpets dates back to the ancient Persian Empire, thousands of years ago. These patterns are used with precision and unparalleled detail. Because of their rarity and high quality, Persian carpets are highly valued by collectors. carpet.
On the other hand, the term "oriental carpet" is applied to carpets made in a wide range of countries, including Egypt and Turkey to Pakistan, China, India and Iran, and it means that all Persian carpets are necessarily oriental, but not all oriental carpets are Persian, and Moroccan carpets are also sometimes considered Oriental, yet distinct enough that many people consider it a separate type of carpet.
Historically, Persian carpets were considered to be of the best quality, but their increasing scarcity has encouraged weavers from outside Iran to adopt Persian designs and techniques.
How to check if your handmade rug is authentic?
After going through how hand-knotted rugs are made, we will reveal more details about the differences between them and machine-made rugs and how to differentiate between the two.
The easiest way to tell the difference between a handwoven and a machinewoven rug is to look at the backing. The weave of a handwoven carpet is tied into the warp directly, while a machinemade carpet is lifted and held in place with glue and additional backing material. Just like in a handmade carpet, the backing of a handmade carpet is smooth. and elasticity, with clearly visible knots in a pattern against the front of the rug, if you feel that some of these knots are looser than others, that is a good sign, even the most skilled weaver will not be able to weave a rug with machine-like precision, so some unevenness is an indication of Your rug is handmade.
Original oriental and Persian carpet weaving uses natural, color-fast vegetable dyes, and to verify that they are natural dyes, leave a damp cloth on the carpet overnight, if you discover the next day that the dye has transferred to the cloth, this is evidence that the dye is not colorfast, and therefore The carpet will leave a mark if liquid is spilled on it at some point.
The fringe of real hand-knotted rugs consists of the excess warp threads on both ends of the rug after being cut by the loom Machine-made rugs often mimic this look with a fringe that is glued or sewn on If your rug has a sewn-in fringe it is not authentic because the fringe in carpet Hand-knotted is almost always within the structure of the rug.
Authentic Persian and Oriental rugs are always made of 100% natural fibres, meaning that they are woven from materials such as: cotton, wool, silk or a mixture thereof. If your rug contains any synthetic materials such as polyester or polypropylene, it cannot be classified under handmade rugs.
It is necessary to take the price into account when looking for handwoven rugs, because this part is especially important when buying rugs online as handmade rugs are very expensive.
Many consider hand-knotted carpets to be a valuable investment and family heirloom, and it is necessary to expect to spend a lot of money to buy handmade carpets, because the process of weaving them is a laborious process, and requires time and effort, and a team of professional weavers to complete room-sized carpets, if we assume that they work part time Kamel, which justifies the prices of hand-woven carpets reaching thousands of riyals in addition to the cost of its distinguished materials, and for Persian carpets, the accompanying increase in prices is due to its scarcity, so if you find a room-sized carpet that is sold for a few thousand riyals on the basis that it is a Persian carpet Or an original oriental, there is a very high probability that the information about it will be misleading.
Buy handmade rugs online
If you want to buy a handwoven rug online, be very careful to check the reputation of the site from which you will buy, take the time to read reviews, read return policies, and pay close attention to the photos you find. The site you buy from should provide photos of the rug from multiple angles that show Clearly the unique advantages of a woven rug.
We hope this article helped you to know the differences between handmade and machine-made rugs. You can browse the handmade carpets available on Weft and get the most beautiful masterpieces of handmade carpets.
Translated by: rugs.com