Crochet rug is a great way to add life to your home, it is not about the process of crocheting rugs per se, but rather about the effort one puts into making something beautiful to show off and others to enjoy watching, in this article we have compiled 7 of the best crochet rug patterns , which will make you want to add it to your home..
When it comes to decorating your home in the classic way, you cannot ignore the idea of ​​owning crochet rugs, and you may feel that knitting this type of rug requires a lot of effort just to add it to your decor, but it adds a distinctive touch to the decor, especially if some of the spaces in it seem boring.
Over time, the number of crochet rug patterns has increased, so you will have a lot of options. These options are available for those who want to sew crochet rugs themselves, or for those who want to own them alike.
Crochet rug patterns include circular designs, contemporary designs, and many more, which you can use to suit the room design. You may notice that of all the crochet rug patterns, the rectangular crochet rug pattern is the most popular because it easily adapts to doors, hallways, etc. .
Crochet rugs have many uses, regardless of their use in decoration. For example, they can be used to protect the floor from scratches caused by furniture, or these rugs can provide comfort for feet in the bedroom or bathroom. The most important thing that can attract attention about crochet rugs is It can be easily washed with a washing machine, while it can maintain its quality.
This type of carpet was originally placed to protect floors from dirt or to absorb water (especially in bathrooms), but it is now being used as a fashion in the world of interior design.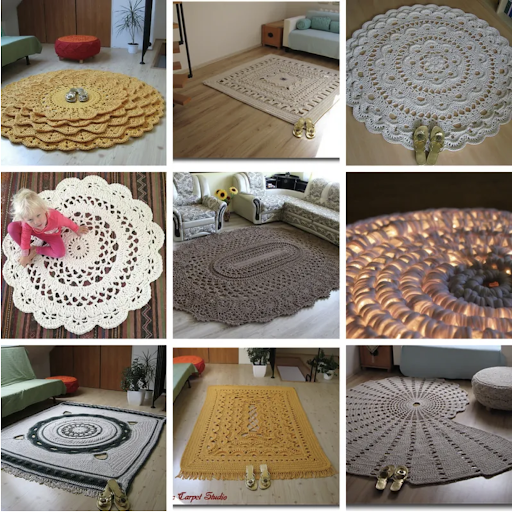 Here are the most commonly used crochet rug patterns.
Circular Crochet Rug Patterns : Most circular crochet rugs are woven with large alpaca stitches that form a warm rug to avoid cold floors, and circular crochet rugs can also be made with single crochet stitches, so those who know this basic crochet technique can choose to try crochet knitting By themselves, circular crochet rugs make the floor comfortable and add color to a room, and you can make the rug match the style of any room or choose a vibrant contrasting color for a unique effect in the space.
Contemporary rug patterns : These are modern shapes of crochet rugs that you can use in all spaces and rooms in your home, and they are classic shapes, but they add a modern look to the home. This type is often made of high-density yarns, which makes it super soft and luxurious for your feet.
Shaggy Rug Pattern: It is considered one of the latest designs in crochet rug patterns, and it is very popular among rug lovers due to its soft texture, therefore, it is especially suitable for young children and babies as well, this modern rug is the most comfortable of all crochet rugs and gives room Modern look, which is more popular in girls' rooms.
Welcome crochet rug : The crochet rug provides a great service when you place it as a welcome rug outside your home or inside your home near the entrance door. You can use bright colors or quick patterns for this purpose.
Free crochet rug patterns
Get inspired by these crochet rug art patterns and ideas, you'll probably want to make these adorable rugs and they're fairly easy, so we've included the best free crochet rug patterns to try!
How to make an oval shaped crochet rug?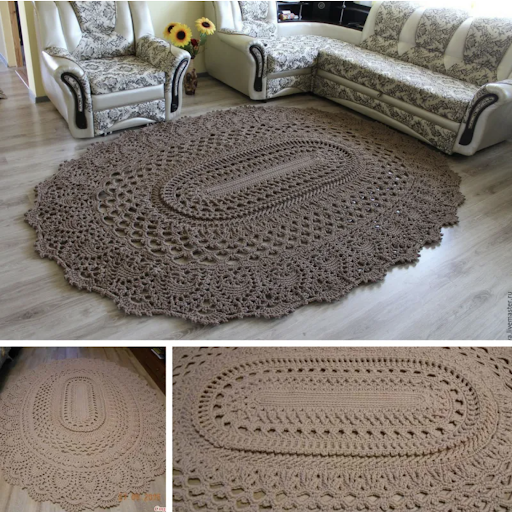 Sunshine crochet rug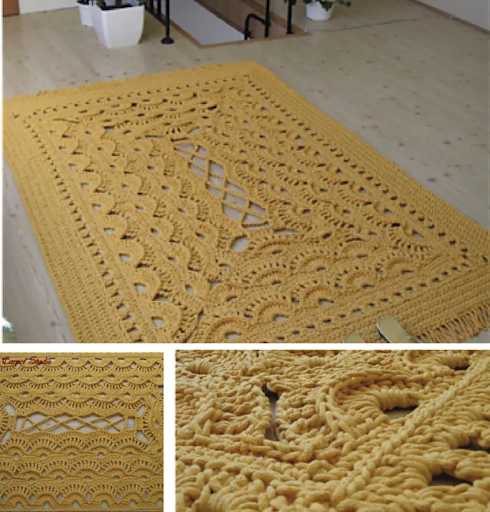 Knitting a crochet rug can be a daunting task for some, but making DIY your home is easy, and being handmade will be the perfect way to add life to your space.
Crochet rug for kids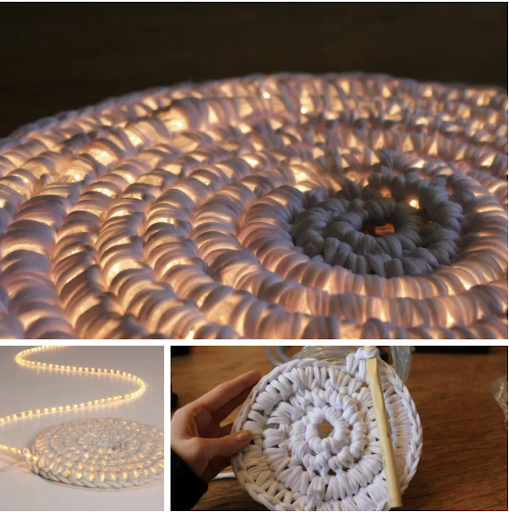 Giant crochet rug in the shape of a seashell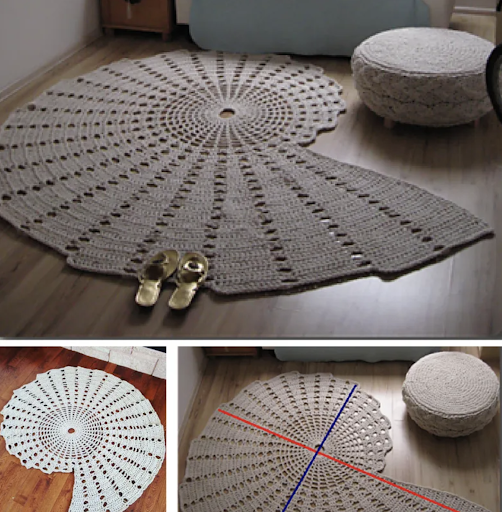 Crochet holly floor rug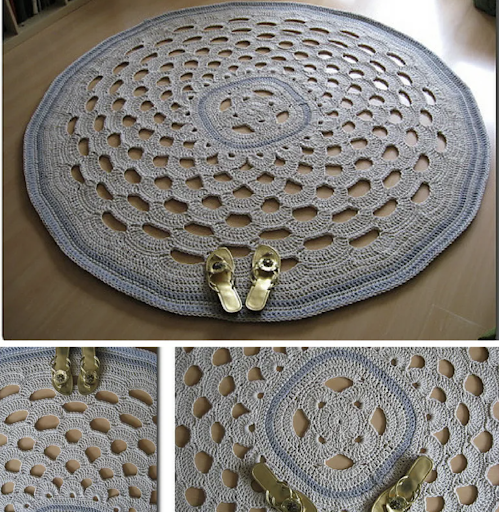 Giant crochet doily pattern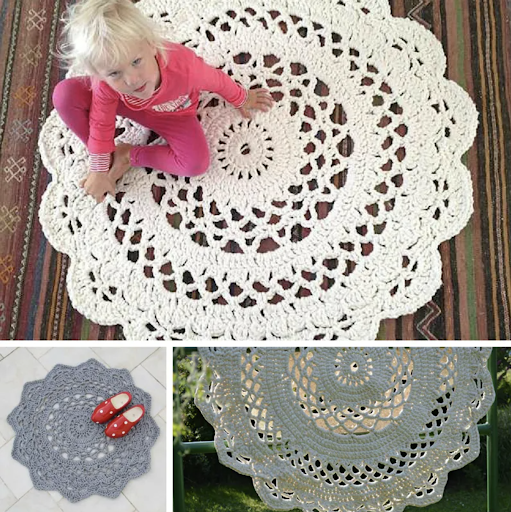 There is no better feeling than walking barefoot on a handmade crochet rug! You will feel like you are giving yourself a treat! Your family and friends will love this great option and they will definitely ask you to make some crochet rugs for them too!
Crochet mandala rug pattern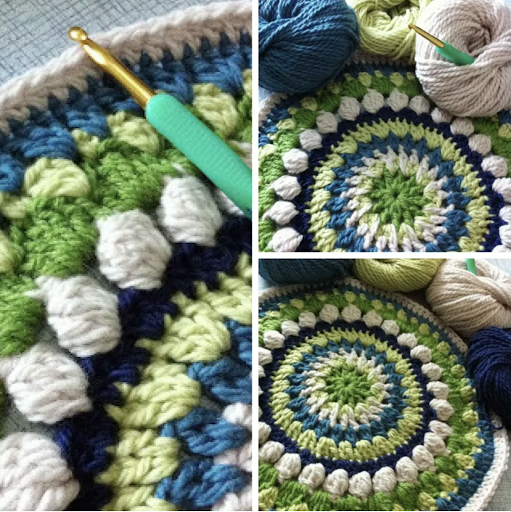 Crochet fish scales rug pattern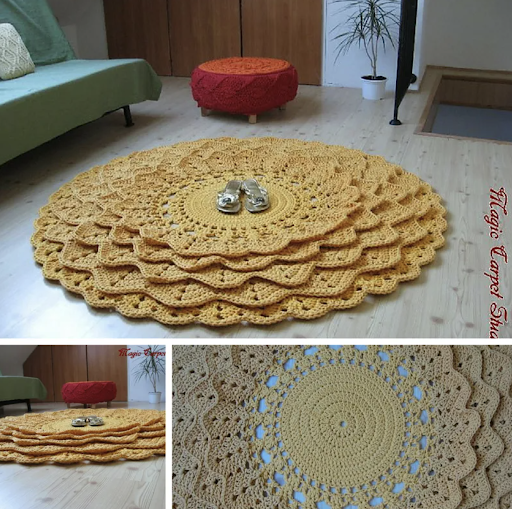 Lilywater flower crochet rug pattern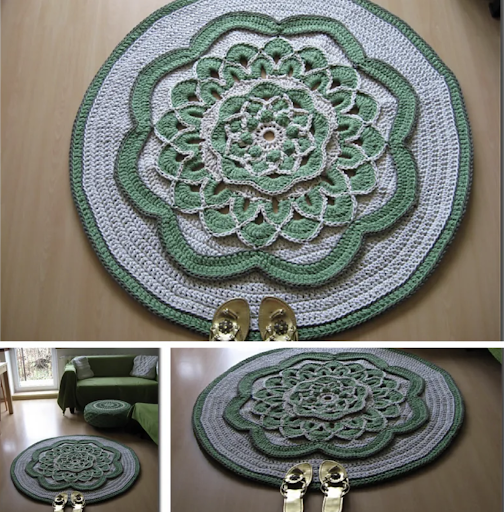 Giant crochet doily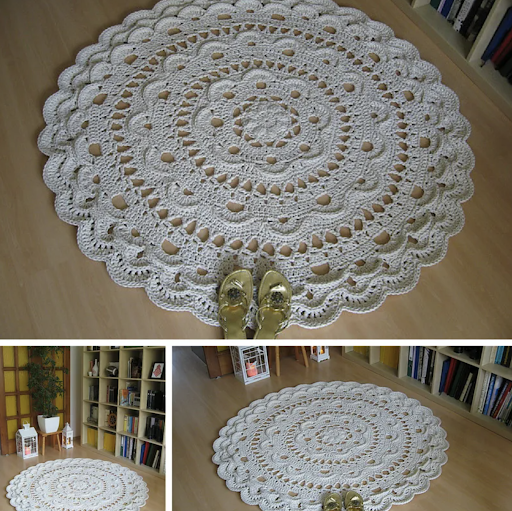 Crochet floor rug with openwork dots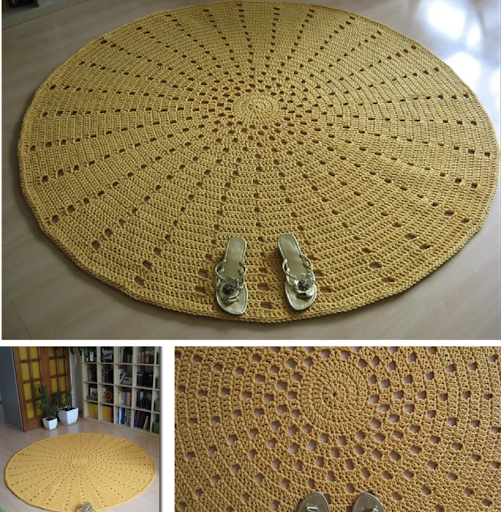 Giant mandala rug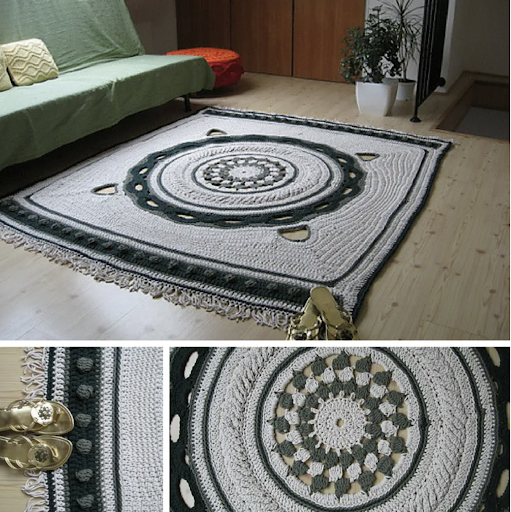 Rectangle crochet rug pattern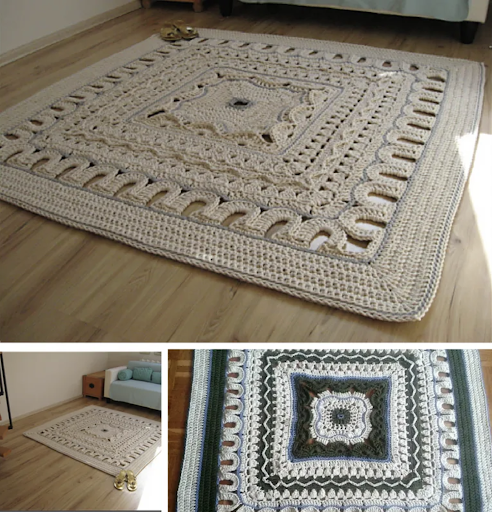 [Translated by adaptation from egecarpets.com ]